Starting school at Ryerson was a huge change for me and yes, change can be a little scary but more than anything it's exciting. Now that I'm in my second semester of my first year of university, I have more experience on how to navigate school and more specifically, online school. So I thought I'd share with you some of the things that I learned and what helped with  my transition.
1. Bad grades are not the end of the world 
Like many students, you probably had a competitive average before entering university, but be prepared to see your marks drop. I should note that not everyone will experience this, but many do. If I'm being honest, when I received a 65% on my first journalism assignment I started to cry more than I should have. After the moment passed, I reminded myself that learning something new can be difficult, and it may take some time to become the best at it. My advice is to attend class, complete the readings and attend office hours. More than anything, I learned it was about being disciplined, which meant having a consistent study schedule. 
2. Time management is not as easy as you think
If an incoming student were to ask for my advice I would immediately advise them to nail down their time management skills. I find at the beginning of a new semester I'm really good at managing my time, but as the semester progresses it gets worse because of the amount of work I have to get done. What I will say is that Google Calendar, a planner or a to-do list will be your best friend. To avoid procrastination I recommend taking short breaks in between study sessions to avoid losing focus. 
 3. Don't be afraid to ask for help 
I'm a relatively shy person, it's not easy for me to strike a conversation with a stranger let alone speak to my professor. I remember not understanding one of my assignments and I decided to book a meeting with my professor. I had butterflies in my stomach during the Zoom call, but I asked all my questions and it was reassuring to know I was on the right track. Professors are here to help, so take advantage of the resources they provide because it can only benefit you. On that note, don't be afraid to ask a question in class. You've probably heard this before but the truth is, the question you have is probably the same question another student has. 
4. Reach out to people 
Making friends online is hard but not impossible. First thing I advise you to do is join the Accepted – Ryerson University Class of 2025 Facebook page once you receive an offer. Here you'll be connected with hundreds of future Ryerson students like yourself. People will often create group chats for their program, and I recommend joining those as well. Even if you don't plan on messaging in the chat I recommend joining because if you have a question, oftentimes someone in the chat can help you. 
5. Allow yourself to rest
University students are notoriously known for sleepless nights, but the truth is if you plan your day right you can go to bed early and give yourself the rest you deserve. I try my best to wake up early and get as much done during the day so that at night I can get as much sleep as possible.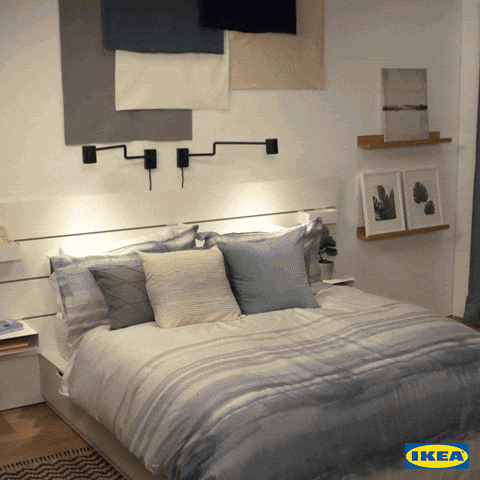 Via Giphy
6. Map out your minor if you plan on taking one 
If you plan on taking a minor I recommend planning out how and when you'll take those six courses. I personally am working towards the Public Relations and Sociology minors, and luckily as a Journalism student, I can take several electives that will count towards both of my minors. If you need more guidance, I recommend booking an appointment with your academic advisor during first year. 
7. Read the emails sent out from your faculty and department
My inbox fills up with a lot of junk mail but the one thing I keep an eye out for is anything my faculty or the journalism department sends out. Almost every week I'm given a list of job opportunities, both paid and unpaid. If I didn't open those emails I would never know about them. 
8. Set goals for yourself
It is easy to lose motivation especially as I learn online from my bedroom, but I think goal setting is important to help with your motivation to do well in school. In my first semester, I set small weekly and daily goals for myself, for example, answering a question in class. It was small goals that helped me stay engaged and also build confidence. 
Every student will have their own experience when entering university, but these were some things I learned and did to help me navigate my experience.